| | |
| --- | --- |
| | |
| | |
| | |
| | Matt Solid Color / Glossy Solid Color / Brushed Metal / Mirror / Granite / Wooden |
| | |
| | |
| | Acid-Resistant / Antibacterial / Firebrick / Heat Insulation / Non- Slip / Wear Resistant |
| | Interior Floor Tiles / House Flooring / Office / Hotel / Villa / Apartment And more |
| | FCL: In bulk / LCL / Wooden Package |
| | |


Rucobond Sintered Stone Slabs are celebrated for their Fireproof & High-Temperature Resistance, ensuring durability and safety in every environment. Navigate through extreme weather with our Freeze-Thaw Resistance, and maintain a hygienic space with our Anti-bacterial & Anti-fungal properties. Experience minimal wear and tear thanks to our Impact and Scratch Resistance, while enjoying the benefits of Low Water Absorption, UV Resistance, and Corrosion Resistance.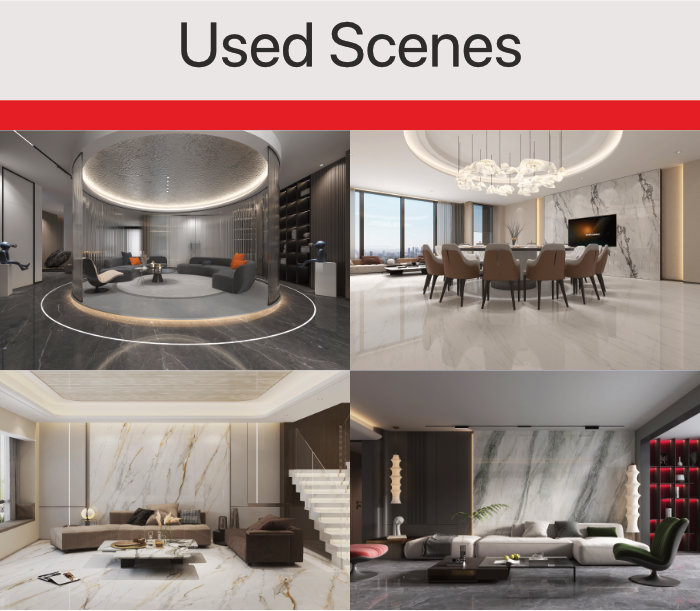 Seamlessly blend durability with elegance, making them the perfect selection for various applications. Elevate your interior spaces with our slabs, widely used for Interior Floor Tiles, providing a robust and stylish foundation underfoot. Transform residential and commercial spaces alike, as our stones splendidly grace House Flooring, ensuring a luxurious and durable surface for homes. In the corporate world, our slabs enhance Office environments, offering a sleek, professional aesthetic and enduring quality. Dive into opulence with our stones adorning Hotel interiors, providing a lavish and welcoming ambiance. Our slabs are also a preferred choice for upscale Villas and modern Apartments, ensuring every space not only looks phenomenal but also stands resilient against everyday wear and tear.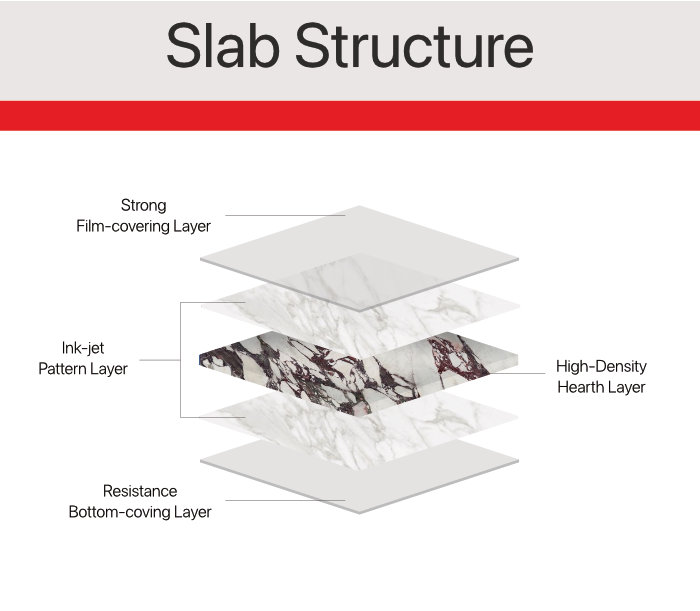 Crafted with a stunning Inkjet Printed Pattern Layer, offering a wide array of visually appealing and realistic designs, ensuring your spaces are always in vogue. Beneath this aesthetic brilliance lies the High-Density Core Board Layer, a robust heart that provides unparalleled strength and stability to our slabs. Ensuring our stones withstand the trials of time and use, the High-Strength, Corrosion and Scratch-Resistant Top and Bottom Layers offer an extra shield, safeguarding the intrinsic beauty and structural integrity of our slabs. At Rucobond, we don't just create stones; we engineer lasting impressions, ensuring that every step you take is grounded in quality, durability, and style.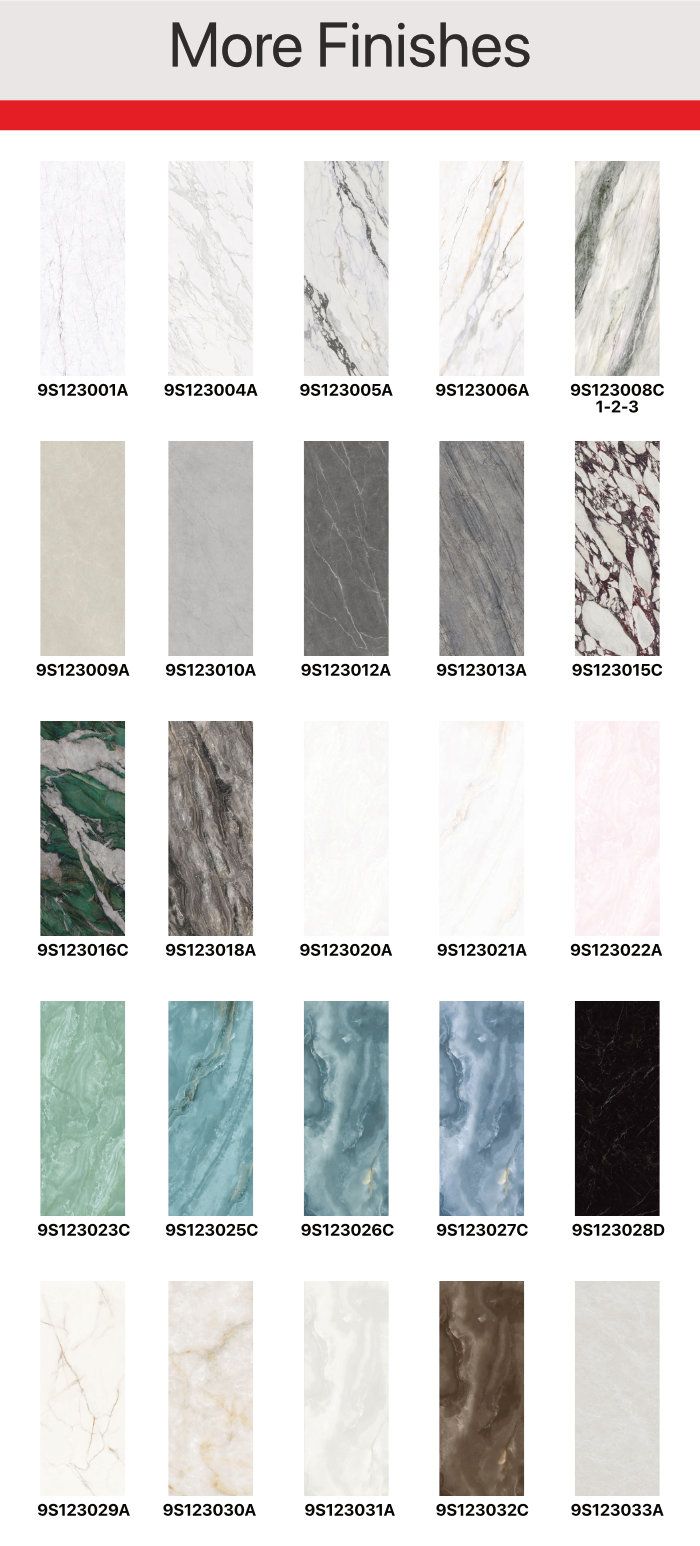 Presenting a rich palette of 25 exquisite colors and patterns, meticulously curated to cater to varied aesthetic preferences and design visions. From the timeless elegance of pure whites to the bold allure of intricate patterns, our slabs offer a spectrum of possibilities to turn your design dreams into reality. Each hue and design is crafted with precision, ensuring that the vibrancy and detail are locked into the stone, providing you with a canvas that remains as stunning as the day it was installed. Whether you're envisioning a minimalist modern space or a richly detailed classic ambiance, our extensive range empowers you to create environments that resonate with your unique style.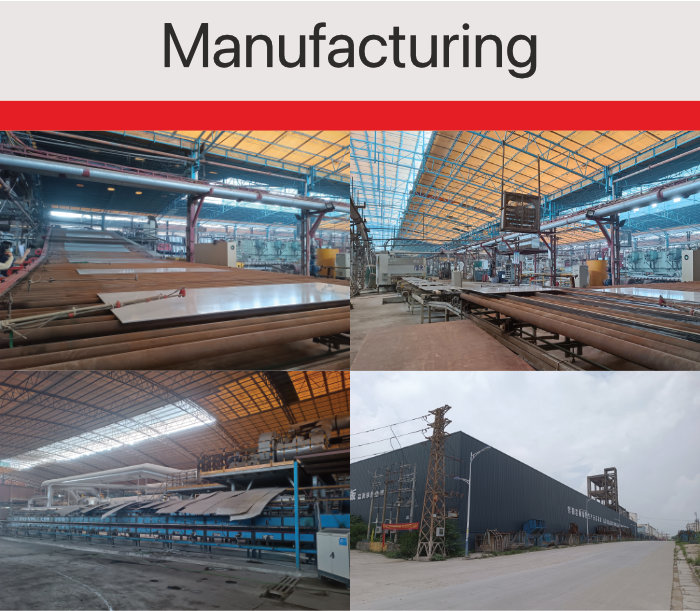 Beginning with the careful selection of premium raw materials, we employ state-of-the-art inkjet printing technology to infuse our slabs with vibrant, long-lasting patterns and colors. The slabs are then subjected to ultra-high temperatures, sintering them to perfection and ensuring unparalleled durability and resistance to various elements. Each slab undergoes rigorous inspection under our stringent quality control standards. From structural integrity, color fidelity, to surface finish, every aspect is scrutinized to ensure that only the finest products reach our clients. Our commitment to excellence ensures that every piece not only meets but exceeds international quality standards, providing you with a product where beauty and quality coexist in harmony.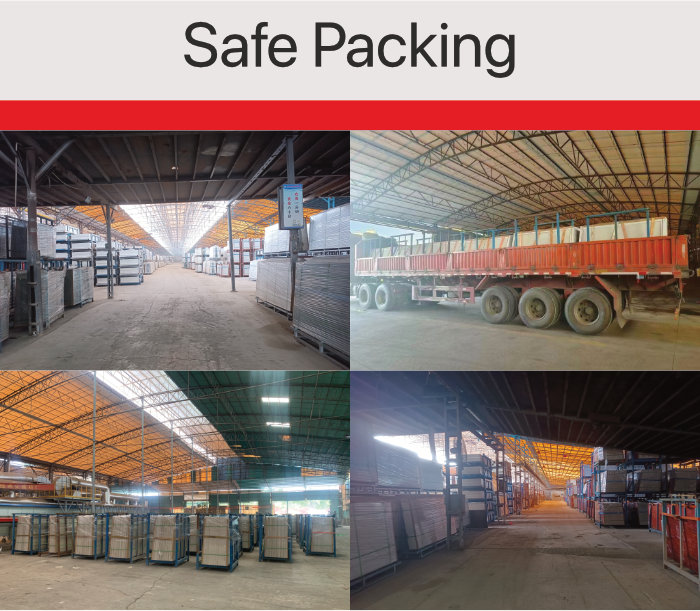 We transcend boundaries with our highly secure global delivery capabilities, ensuring that our premium Sintered Stone Slabs reach you safely, wherever you are in the world. Our logistics network is meticulously crafted to handle each slab with the utmost care, preserving its integrity and beauty from our facilities to your doorstep. We leverage a combination of secure packaging, reliable transportation, and efficient customs handling to ensure that your slabs arrive in impeccable condition and in a timely manner. Our dedicated logistics team navigates through the complexities of global shipping, providing you with a seamless and worry-free delivery experience. With Rucobond, your dream spaces are not bound by geography. Experience the blend of exquisite craftsmanship and secure global accessibility, as we bring the elegance of our Sintered Stone Slabs to your world, unscathed and unparalleled.