| | |
| --- | --- |
| | |
| | PE / PVDF / NANO / Anti-Scratch / Mill |
| | Recycle PE Core / Fireproof PE Core / Unbreakable PE Core |
| | Matt Solid Color / Glossy Solid Color / Brushed Metal / Mirror / Granite / Wooden |
| | 1220mm / 1250mm / 1500mm / 1550mm * 2440mm |
| | |
| | 2mm / 3mm / 4mm / 5mm / 6mm |
| | 0.06mm / 0.08mm / 0.12mm / 0.15mm / 0.18mm / 0.21mm / 0.25mm / 0.3mm / 0.45mm |
| | FCL: In bulk / LCL / Wooden Package |
| | |




Lightweight and easy to process, this material has superior weather, corrosion, and pollutant resistance. It also boasts excellent fireproof properties, perfect cold resistance performance, and even coating in various colors. Additionally, it has superior impact resistance and super peeling strength, making it easy to maintain. It is certified by ISO9001, SGS, CE, ASTM and other certification authorities.

Our Aluminum Composite Panel is available in a wide range of colors and surface textures styles, including but not limited to Matt Solid Color Style, Glossy Solid Color Style, Brushed Metal Style, Mirror Style, Granite Style and Wooden Style. You can check out our Color Index Gallery page to see all the styles we offer. Contact us to discuss and decide the final style you would like.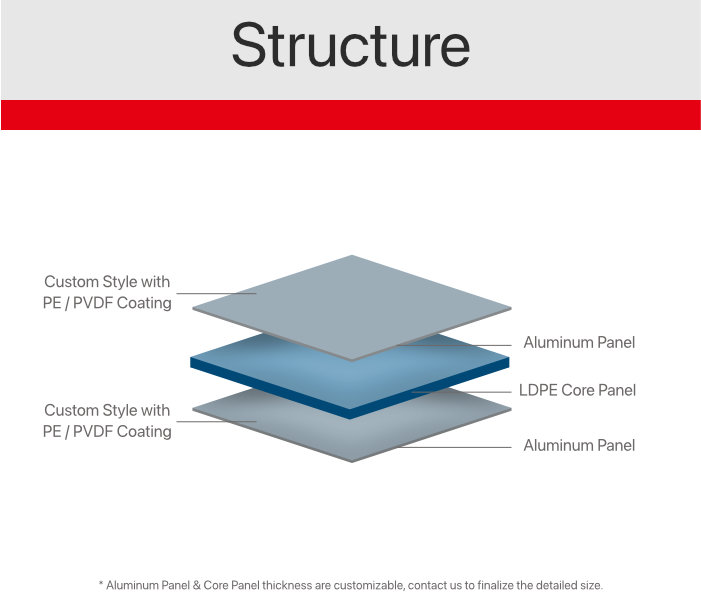 At our aluminum composite panel production company, we offer fully customizable ACPs to meet your specific needs. Our ACPs are composed of two aluminum metal sheets that sandwich a customizable thickness LDPE (Low-Density Polyethylene) core panel. The thickness of both the aluminum sheets and the core panel can be tailored to your specific requirements. You can also choose from a variety of surface styles and further customize it with a PE (Polyethylene) or PVDF (Polyvinylidene Fluoride) coating. The PE coating is perfect for indoor decoration, while the PVDF coating is suitable for both indoor and outdoor use.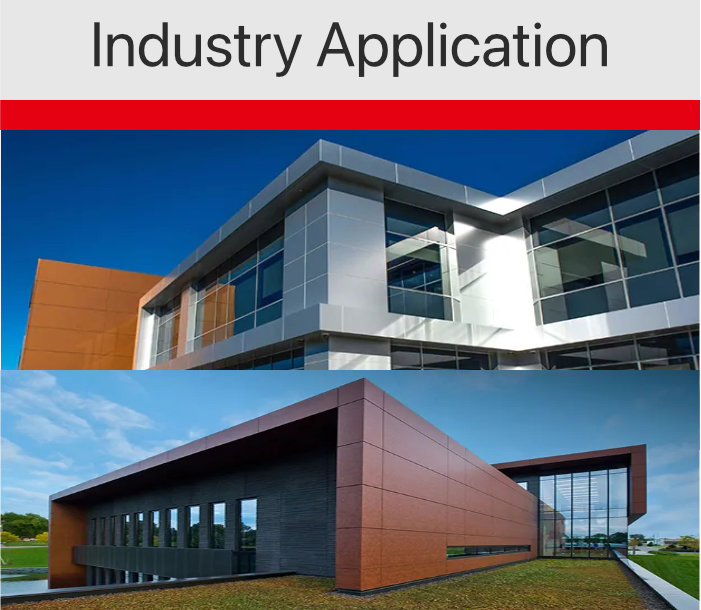 Aluminum Composite Panels (ACP) have a wide range of applications. They are widely used in the construction industry for external cladding, interior decoration, and signage. The excellent properties of ACP, including light weight, durability, weather resistance, and fire retardancy, make them a popular choice for various architectural and decorative applications. In addition to the construction industry, ACP is also used in the transportation, advertising, and industrial sectors.